BRAZILIAN JIU-JITSU BLACK BELT
JEET KUNE DO INSTRUCTOR
FILIPINO KALI INSTRUCTOR
Christopher Lund has been involved in the Martial Arts for over 25 years. He began training Jeet Kune Do Concepts in 1990 and Brazilian Jiu-Jitsu in 1992. Christopher is among the first generation of Americans to study the art of Brazilian Jiu-Jitsu, beginning his formal training at the Gracie Jiu-Jitsu Academy of Honolulu with Relson Gracie. His credentials are steeped in a rich training lineage, having earned teaching certifications from the legendary Guro Dan Inosanto and his BJJ Black Belt from world-renowned Team Nova Uniao. He was awarded his Jiu-Jitsu Black Belt from Nova Uniao Hawaii founder, Renato "Charuto" Verissimo in 2009 and teaching certifications in Jeet Kune Do and Filipino Kali from Bruce Lee's protege, the legendary Guro Dan Inosanto.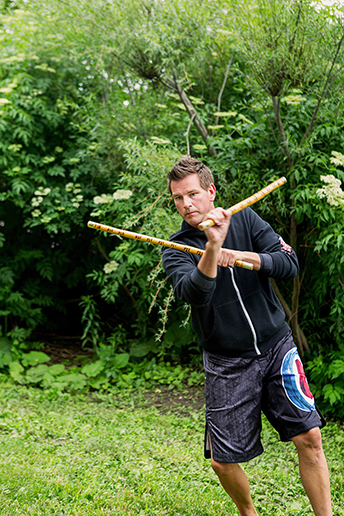 Christopher Lund has been a full-time Instructor since 2001 and is one of the most experienced Brazilian Jiu-Jitsu teachers in the area. He is honored to have introduced the art of Jiu-Jitsu to the far north suburbs, opening Lake County's first BJJ Academy in March of 2003. For close to two decades, Christopher has parlayed his passion for the Martial Arts to a passion for helping others through teaching and mentoring. His highly structured classes accommodate all levels with a methodical teaching style showing both the how and why of every technique. Christopher's signature lesson is that when trained correctly, Jiu-Jitsu is an art for a lifetime.

OHANA MARTIAL ARTS TESTOMINIALS
_____________________________________
"Chris is always willing to help work on details with you, and really helps you not just perform a technique, but also understand the "why" behind everything you learn. I have not only learned amazing Jiu-Jitsu, Boxing, and Kali techniques, but have further learned the importance of strong character".
-Jonah Saller, BJJ Blue Belt
_____________________________________
"Super friendly students and Chris, the head coach is a great Instructor. I highly recommend everyone to visit Ohana Martial Arts. Great Jiu-Jitsu and great people".
-Bernardo Faria, 5X Jiu-Jitsu World Champion
______________________________________
"Ohana is the 1st BJJ school in Lake County, You can not be the longest standing BJJ school without having some bedrock core essentials. Professor Lund comes from a rich pedigree of Martial artists and the instruction you get from him is straight from the source. Professor Lund is patient yet stern, he will meet any student where they are at, and work with them to help bring out the best Martial artist they can be. I highly recommend this Academy to all".
-Jason Foster, 1st degree BJJ Black Belt

________________________________________
"Quantity and quality in one mat! A awesome team with good vibes".
-Yuri Simoes, 3X ADCC World Champion
________________________________________